8 Golden Rules For Finding Cheap Wedding Venues
Be efficient with your guest numbers
Steer clear of exclusive venues
Look to the suburbs
Double up on the ceremony and reception venue
Get married at a different time of year or on a weekday
Book early so you have more choice of locations or get married quickly
Shop around and compare the package prices of different venues
Don't be afraid to negotiate
Many couples these days are trying to keep their wedding costs down by finding cheap wedding venues. But selecting the right location to get married and to hold your reception is critical to the success of your day as you and your guests are going to spend a lot of time there. So how do you pick the right venue without blowing your budget? By following our golden rules of course.
Be efficient with your guest numbers. Not everyone can keep their guest numbers as small as possible as they have large families or groups of friends. In this case you need to ensure that you choose a venue where your number of guests are close to the maximum they allow. Do not hire a room that can hold 200 guests for a small intimate wedding. Not only will your guests be swamped in a large room but you will be paying top whack for something this big. Instead ask the venue if they have different sized rooms, as perhaps you could hire their smallest room that accommodates only 30 guests. Try and determine the size of your venue before finalising the guest list. If say you can keep to 100 guests in a medium sized function room, this will be a lot more cost effective than inviting 105 guests and paying for the largest room.
Steer clear of exclusive venues. Skip over the pages in your wedding magazine advertising all sorts of fancy venues and consider less popular venues instead. Even try to come up with venues that do not normally host weddings as these sorts of places will be happy to accommodate you at a much lower price per guest. Using a luxury hotel or other 'must have' location as your wedding venue is going to cost you a bundle so spend some time and come up with a list of unique and different places to investigate. A tip to get you started is to be sentimental. Think about where you met, where you've shared some special times or where you like to hang out together. These sorts of places could be the answer to your cheap wedding venue ideas.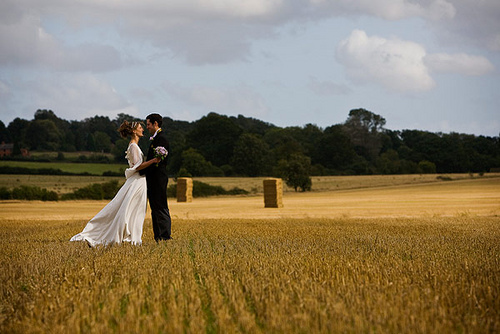 Look to the suburbs. If you live in a big, built up city, check out the locations slightly out of town or in a small, nearby town. The chances are that the out of town venues will cost you considerably less as well as saving your guests some money on their accommodation.
Wedding Photography by Jon Day.
Double up on the ceremony and reception venue. You may be planning on having your wedding ceremony in one place and then moving all of the bridal party to another location for the wedding reception. This double venue idea is going to cost you more than if you found a wedding venue where you could marry and also party afterwards. You will not only save on hire charges, but also costs of transport and decoration.
Get married at a different time of year or on a weekday. Certain dates throughout the year are typically more popular and therefore more expensive when it comes to getting married. Valentine's Day, Christmas and summer weddings are all going to cost you top dollar for a venue. So work outside of these dates. It doesn't matter when you marry – it will still be the happiest day of your life, and fall weddings for example can be very beautiful and offer great color schemes to work into your decorations. If you are set on a summer wedding though, consider another day of the week other than the most popular day, Saturday. Venues usually have cheaper prices on these days.
Book early so you have more choice of locations. Planning your big day early on can reap rewards in terms of budget savings. You will not save on fancy locations but you will have more choice over the 'not so fancy' and therefore cheap wedding reception venues.
Get married quickly. This probably won't be the advice your parents give you but if you are spontaneous and have friends and family who will drop everything if you ask, check out some of the big venues in your locality. If they are not booked, you may be able to negotiate a good deal for a short notice wedding as they are not likely to fill their blank diary with anyone else.
Shop around and compare the package prices of different venues. This may seem very obvious but do not dismiss this as it is a valueable tool when looking for bargains. Collect prices for a number of locations in your area and compare what the more expensive ones are offering you over and above the cheaper locations. Are the extras you are paying for on your must-have list? If not, be strict and stick to your budget. Empty locations are another option to consider at this point but although they seem cheap at the outset, they often end up costing more than the all in packages when you add up the quotes from each individual supplier. Even if the total price does come in under a package deal, unless the price saving is significant, you will want to consider how much the hassle factor is worth to you of not having to deal with caterers, table, chair and linen hire etc, as opposed to one venue coordinator.
Don't be afraid to negotiate. More often than not, wedding venues will see you coming with an open cheque book. They are trying to sell to you at the highest rate they can but remember there are always other locations that will look just as beautiful.
Tagged with: cheap chicago wedding venues • cheap wedding locations • cheap wedding venue hire • cheap wedding venues • cheap weddings venues
Like this post? Subscribe to my RSS feed and get loads more FREE!